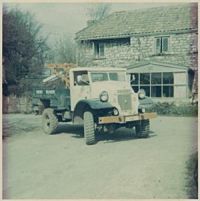 First truck wrecking outfit, Ex WD 1943 Canadian Ford CMP purchased 1965 and originally fitted with a Ford V8 sidevalve petrol engine, having covered around 1750 miles from new. The petrol engine was a bit flat when under load so a 1958 Ford 4D engine from a Thames Trader was installed, and it was used for towing and recovery up to around 1974. We still have this vehicle on site. The cab having no side windows bit drafty, driving over the old Severn Bridge was a memorable event
---
Frozen Food cold store and fleet in 1969. Consists of 4 Thames Traders Diesels, A BMC FGK60 fitted a de-tuned Austin Westminster 6 cylinder petrol engine that did about 5 miles to the gallon, The Canadian Ford CMP wrecker and a couple of Ford Escort Vans. The cold store is behind the loading bay.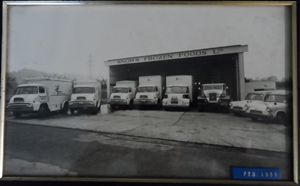 ---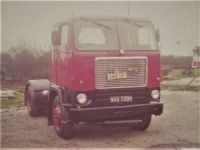 Volvo F88 was our first continental truck acquired and prepared for sale. The comfort and handling in its day was superb, this was around 1974. I remember taking it to a customer on demonstration in South Wales, they made me a coffee and to my horror when i was not looking they started taking the batteries out to check underneath for rust!
---
Volvo F88 240hp 6x2 Registered in 1971 "J" Registration aquired in 1976, fitted with a home built hydraulic chain lift became our first proper truck wrecker. Snows became one of the first truck salvage yards in the UK concentrating solely on breaking continental lorries, which in 1977 were starting to gain popularity against the English built which were sound but lacked the comfort.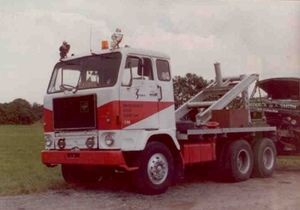 ---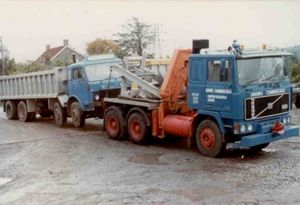 Volvo 1979 F12 330hp lorry wrecker purchased in 1984 starting life as a heavy haulage 100 tonner, image was taken around 1985 before we had new TFL recovery gear installed. Here it has the home made crane temporarily fitted from the F88 above which we dismantled. Operated until 2014 some 30 years we still have her on site in running order.
---